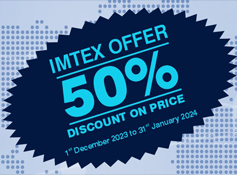 Selection, Assembly & Troubleshooting of Linear Motion Guideways (LMG)
Welcome to Selection, Assembly & Troubleshooting of Linear Motion Guideways (LMG) eLearning Module
Linear Motion Guideways (LMG) is one of the important element of machine tool and most mechanical equipment used in industries. LMG provide a smooth and linear motion, due to which higher accuracy and precision can be obtained in machine tools. The main function of guideways is to make sure that the cutting tool or machine tool operative elements moves along predetermined path. Coefficient of friction for a LMG is only 1/50th and clearance free as compared to a traditional slide.
Today LMGs are used on various machine tools such as CNC Laths, CNC Machining centres, Industrial robots, Measuring machines, Transportation machines, welding machines, Robotics & automation, etc.
This module helps one to understand selection, assembly and trouble shooting of LMG and method of achieving long life with highly accurate motion with many examples.
Learning Duration : 5 Hours
Price : Rs. 2000x 1000 + 18% GST (For participants from India) Price : USD 60x 30 (For participants from Overseas)

This module is developed by Mr. Shiva Kumar , Former Joint General Manager, HMT (R&D), Bangalore. He is an industry expert with over 25 years of rich experience in Design & Development of CNC Machines. Presently Mr. Shiva Kumar is a Technical Consultant to THK India Pvt Ltd and has been associated with THK Co, Ltd., for the past over 20 years.
The index of topics of LMG Web Tutor is as follows :
Introduction
Structure of Guide ways
Types of Guide ways
Application of Guide ways
Selection Parameter
Parameters to select Guide ways
Selection calculations
Application for Machine Tools
Concept of preload, matched pair and precision grade
Analysis of Guide way for machine tool application
Mounting arrangement
Types of mounting arrangements
Procedure to assemble Guide ways
Trouble shooting
Causes and remedies for premature failures
Final assessment